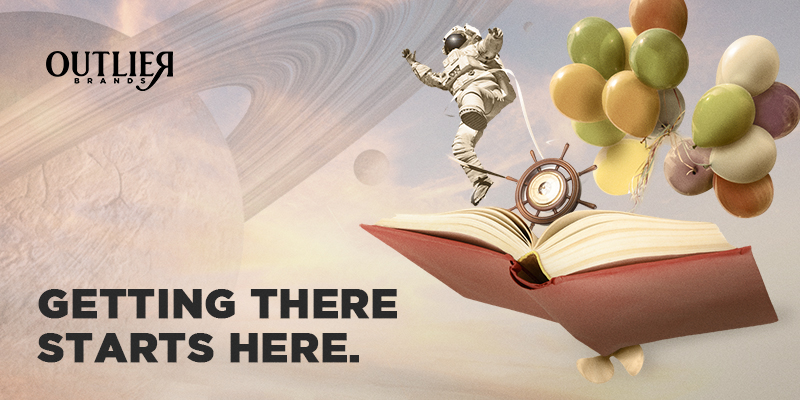 Evolution of an organization is almost always inspired by a new vision of service, satisfaction and success. Today, as we embark upon 2023 — a year of renewal — the agency known as NOISE Inc. is proud to introduce you to our inspired vision for the future: Outlier Brands.
"Our decision to evolve to Outlier Brands has been almost a year in the making," notes John Sprecher, Founder and Creative Director. "Like many brands, it was time for an evolution, a rebirth to a brand entity that both identifies the types of clients we desire to partner with, but also where we can take those bold clients with our proprietary knowledge, strategic intelligence, creative power and passionate service. NOISE Inc. has served us very well the past 18 years, and we thank all our clients across the years for your support."
So what, you may be asking, qualifies as an "Outlier Brand"? It's simple: you want to be the best in your category or industry. You want to not only win but dominate. You want to take your brand to a place no other brand has gone, and doing so, own the others.
"At Outlier Brands, we challenge ourselves, and our clients, to solve business problems creatively," states Ashley Shenk, Partner and Brand Experience Director, "By definition, Outliers are unique, extraordinary, special, highly successful, and noteworthy in their respective fields of expertise. Our new brand promise is "getting there starts here" and the depth, breadth and success of our strategic integrations allow us to position brands in a new and more successful place. "
The brand NOISE Inc. has served us — and our many clients — very, very well over 18-plus years. We've dominated creative awards shows for years. We've served clients literally across the country in 10-plus industries. We've been so exemplary, five of our former clients and industry partners became partners in our NOISE team of pros.
But evolution is upon us, passion is within us, and excitement at the future permeates us. Are you ready to be more than just another? Are you ready to be a leader and dominate, rather than just compete? Then getting there starts here, with Outlier Brands.
"This next step in our evolution is a very exciting one," says Milissa Sprecher, Chief Executive Officer. "Outlier Brands is a fresh, dynamic multi-media agency with the energy, enthusiasm and expertise to take brands to a higher level. We look forward to helping drive market share, mindshare, revenues and profits."
Contact Partner Ashley Shenk for a confidential brand assessment at 239.395.9555 (x4) or AshleyS@Outlier-Brands.com.